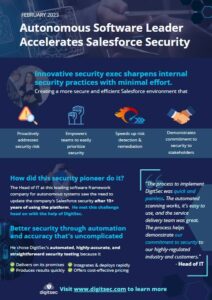 View and download the full story or read it below.
Innovative security exec sharpens internal security practices with minimal effort.
He created a more secure and efficient Salesforce environment that:
Proactively addresses security risk
Empowers teams to easily prioritize security
Speeds up risk detection & remediation
Demonstrates commitment to security to stakeholders
How did this security pioneer do it?
The Head of IT at this leading software framework company for autonomous systems saw the need to update the company's Salesforce security after 15+ years of using the platform. He met this challenge head on with the help of DigitSec.
Better security through automation and accuracy that's uncomplicated
He chose DigitSec's automated, highly-accurate, & straightforward security testing because it:
Delivers on its promises
Produces results quickly
Integrates & deploys rapidly
Offers cost-effective pricing