DigitSec S4 Accelerates Copado DevOps
With S4's precise security testing integrated, Copado DevOps is faster than ever!
Copado + S4 = True DevSecOps
DigitSec S4 seamlessly integrates its comprehensive security testing into every step of your Copado pipeline, establishing a secure SDLC from start to finish.
Vulnerabilities, introduced during Salesforce development lifecycles, expose personally identifiable information (PII) to risk of breach, increase costs, and delay development. Fixing these application security bugs early in the pipeline helps your team avoid costly breaches and ship applications faster. 
That's where DigitSec S4 comes in. Together, Copado DevOps and S4 deliver true DevSecOps for your Copado pipeline.
Why Copado customers choose S4
Deliver comprehensive security testing in Copado pipelines

Shift security left & maximize ROI of Copado investment

Easily find & quickly fix security vulnerabilities

Reduce security & compliance risks to your PII
Discover how S4 accelerates DevOps and reduces risk in Copado projects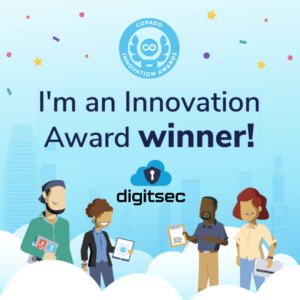 DigitSec Wins an ISV Innovation Award at Copado's 2022 Copa Community Day.

S4 delivers Salesforce DevSecOps.
No security expertise required:

Accurate vulnerability detection with remediation suggestions
Automatically reduces false positives to help maximize ROI
Accelerated development & compliance by reducing error and risk.

S4 integrates directly into Copado CI/CD pipeline seamlessly:
Findings automatically placed in a Copado Result Object.
Application security testing capabilities without leaving Copado.
Flat rate with no cost for users, scans, or increased Copado usage.
Salesforce Clouds & Languages


Sales Cloud
Service Cloud
Finance Cloud
Health Cloud
Revenue Cloud
Community Cloud
Experience Cloud

Apex
Visualforce
Lightning Web Components
Aura
nCino
Veeva
Vlocity